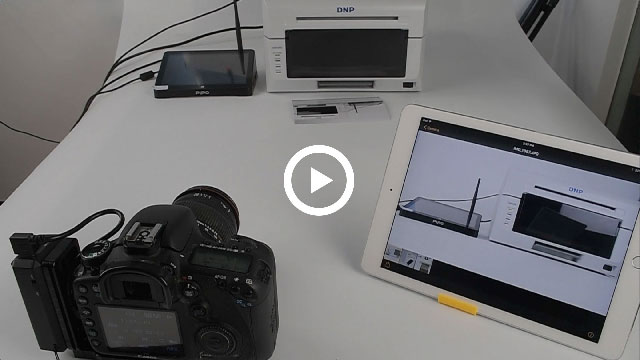 1. Hardware
CamFi wireless camera controller
DNP WPS Pro
DNP Printer
DSLR (Canon, Nikon or Sony. Please refer this link: http://cam-fi.com/en/specification.html)
Tablet or smart phone
2. Software
3. Steps
a. Set CamFi to bridge mode and connect it to WPS Pro via WiFi
1) Connect to the WiFi signal generated by CamFi with the tablet
2) Open the CamFi app
3) Tap the setting icon on the top right of the screen, goto Settings -> Connection Mode -> Bridge mode, and connect to the WPS Pro router.
4) Restart the CamFi.
b.Print the photo as shooting
1) Tap the Auto view button. It will transmit the photos to the tablet while shooting.
2) Select the photo needs to print
3) Tap the action button on the bottom left, select "Print (DNP Printer Only)". The printer will start after a few seconds.